Pet Grooming From Our Veterinarian in San Jose
At Alum Rock Animal Hospital, our veterinarian in San Jose offers pet grooming services to keep your dog or cat looking and feeling his or her best. From bathing and brushing to nail trims and anal gland expression, our experienced grooming team can do it all.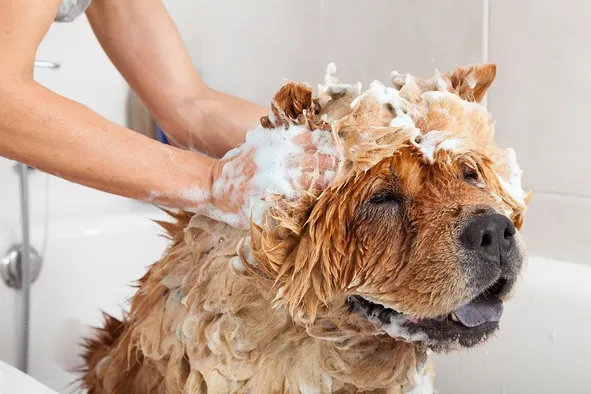 The Importance of Regular Pet Grooming
Having your pet groomed regularly is important for a number of reasons. For starters, with longer-haired peds, regular bathing and brushing is a must for preventing fur clumps from forming. When these form, not only can they be difficult to get rid of, but they can also be very painful for your pet. Furthermore, regular grooming also includes nail trimming, which is important for keeping your pet's nails safely trimmed so as to protect you and your loved ones as well as your property. Some pets with long claws can even become a hazard to themselves or other pets in the house.
Finally, anal gland expression (recommended in dogs) helps to prevent discomfort and itching in the anal area. Furthermore, having this done regularly reduces your pet's risk of infection or abscess.
What to Expect During a Dog or Cat Grooming Appointment
Your pet's experience will depend a little on the specific grooming services you request for your dog or cat grooming appointment. Generally, basic grooming will include a bath and grooming session, though we also offer conditioning coat treatments, nail trims, ear cleaning, and more. If you have a dog in need of anal gland expression, we can also perform this in our office.
Our compassionate and gentle grooming staff is always sure to treat your pet as one of their own, and we do our best to keep pets feeling safe, comfortable, and happy at their grooming appointments! You can feel free to drop your pet off with us and we'll give you a call when they're ready to be picked up.
Pet Bathing and Grooming FAQ
Do cats need grooming services?
While many cats do a good job of grooming themselves, we generally still recommend occasional grooming appointments, especially for cats with longer fur. Short-haired cats can also benefit from regular nail trims and ear cleaning as well.
What if my pet has allergies?
If your pet has skin allergies, please let a groomer know before your pet's appointment. We don't want to use anything on your pet's skin or fur that will cause irritation.
How can I groom my pet between appointments?
Investing in a quality grooming brush and taking the time to brush your pet daily is a great way to prevent matting and keep your pet's fur nice and soft.
Schedule a Cat or Dog Grooming Appointment Today
Ready to schedule your cat or dog grooming appointment? If so, or if you'd like to find out more about our services, just give Alum Rock Animal Hospital a call today at (408) 258-2735. We look forward to serving you and your pet!